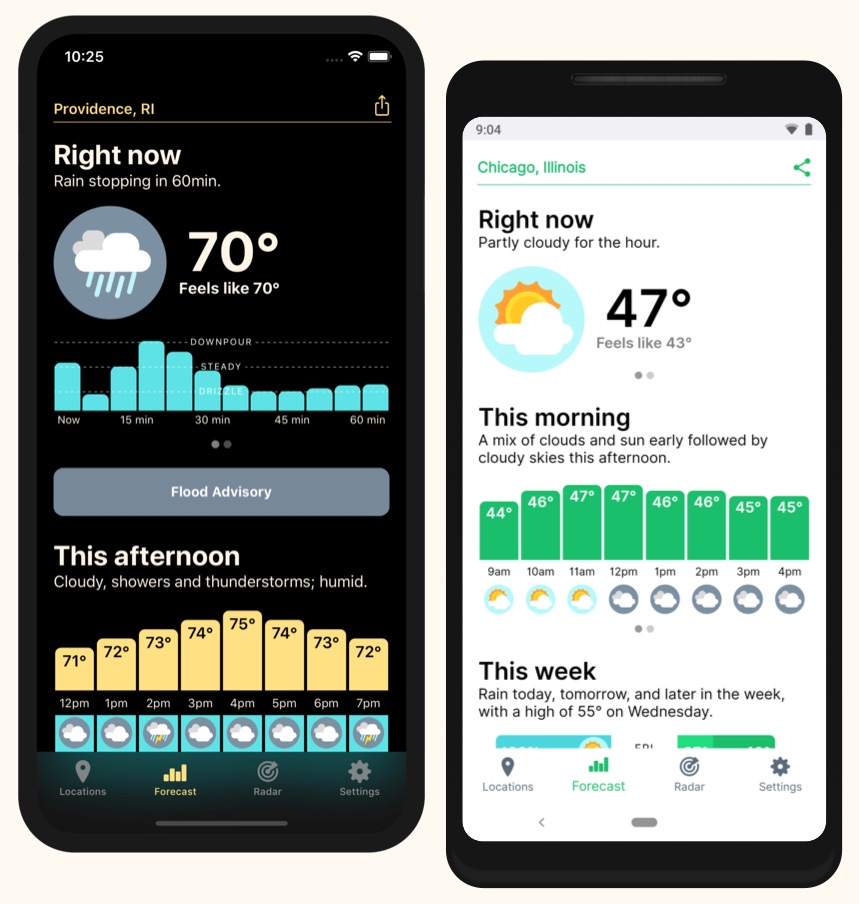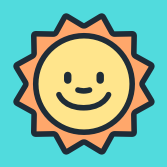 Hello Weather
The amazingly accurate,
perfectly powerful,
seriously simple
weather app.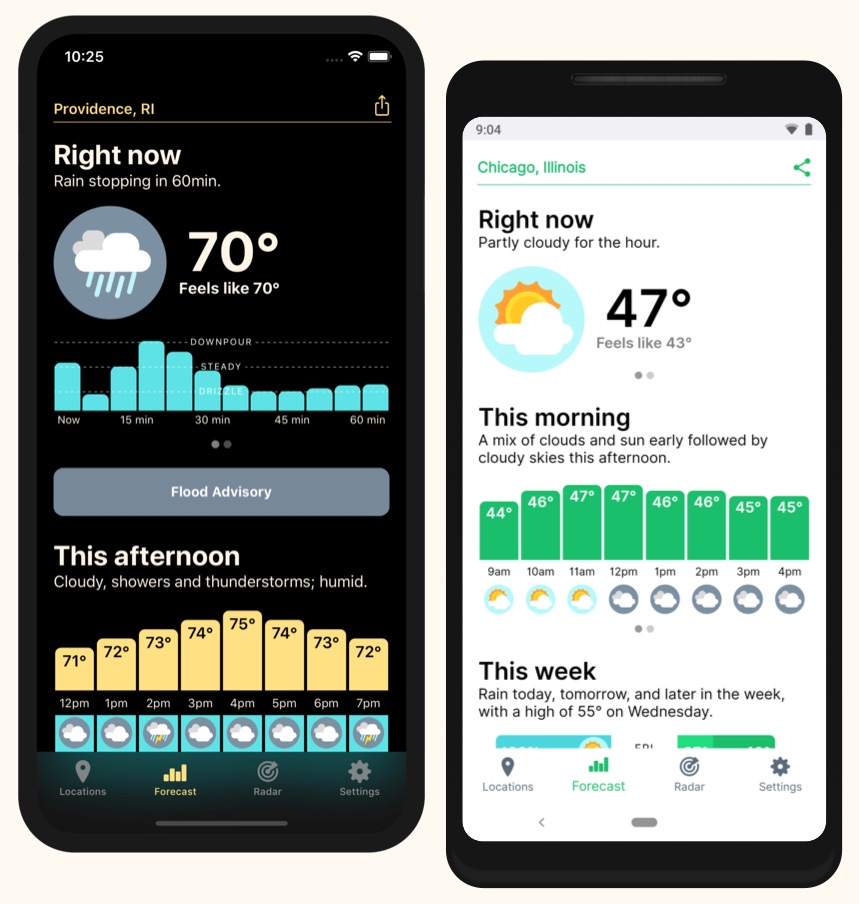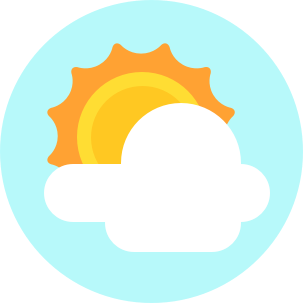 Five reasons why you'll love planning your day with Hello Weather.
1
All the info you need is
right in your face.
Our gorgeous, information-rich design shows you everything that matters in one simple screen. You'll see the current conditions and future forecast in an instant, with more details just one tap away.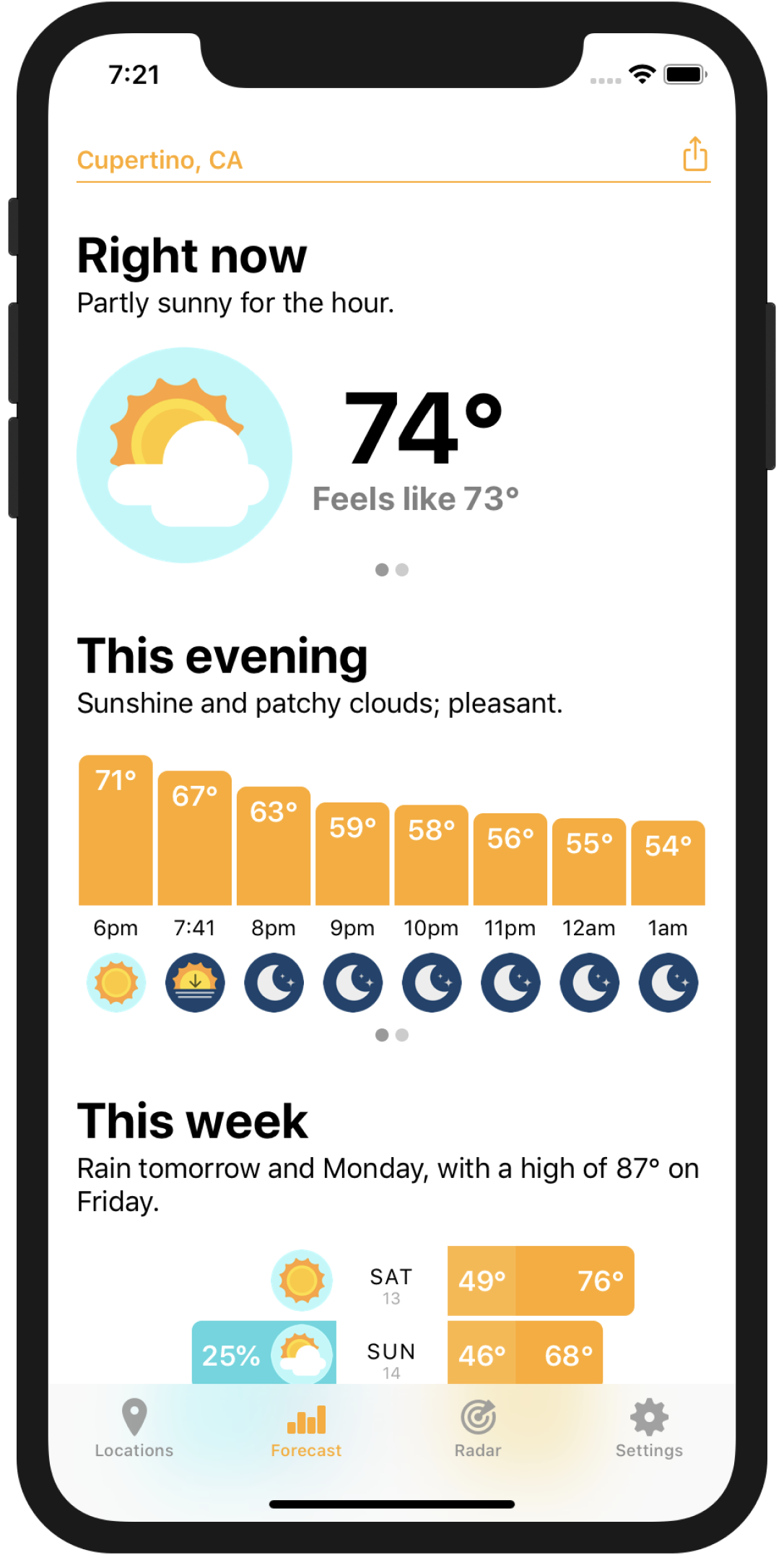 2
You
won't waste time

looking at useless stuff.

Hello Weather intelligently adapts to changing conditions. When it's windy, foggy, or stormy, you'll see all the relevant details right upfront. When conditions improve, it's all tucked neatly out of the way again.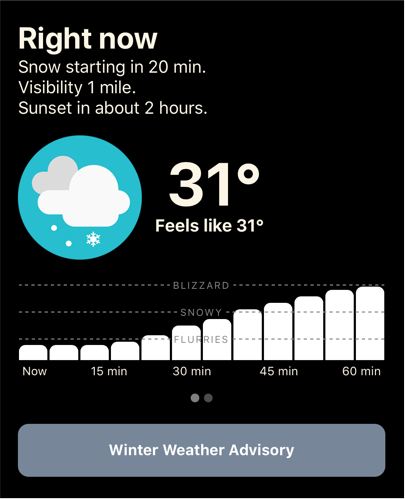 3
You'll get predictions you can
trust.
Hello Weather is more than a pretty face. It's powered by the world's best data sources: Dark Sky, AccuWeather, Tomorrow.io, The Weather Company, and AerisWeather. Pick the provider that's best in your area, or switch back and forth to compare. (Upgrade required.)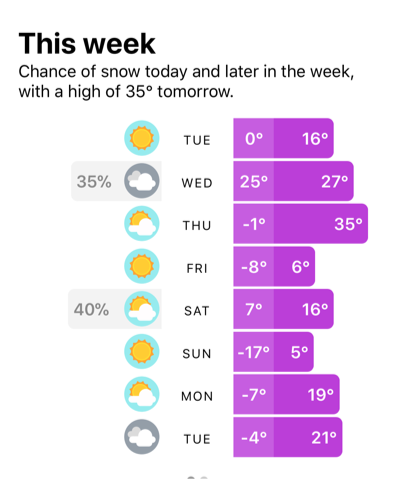 4
You don't need to be a
weather expert.
What does barometric pressure mean? Is the dewpoint good or bad? We translated those esoteric numbers into human words, so you'll know how it really feels outside.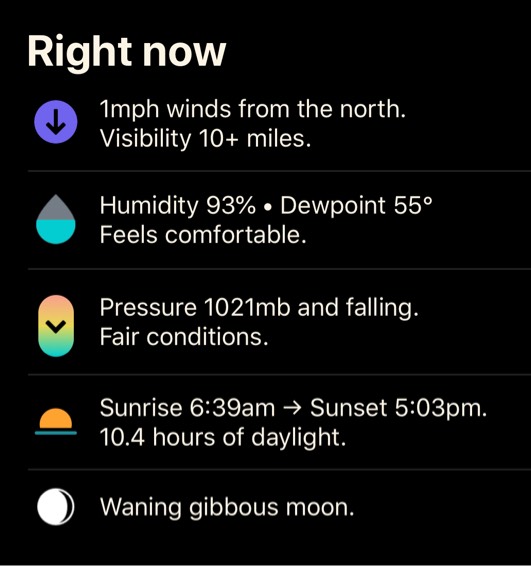 5
It'll make you
smile.
We filled the app with tons of thoughtful little touches to brighten your day. You'll love the custom Home Screen icons, beautiful themes, automatic night mode, and sweet secret extras.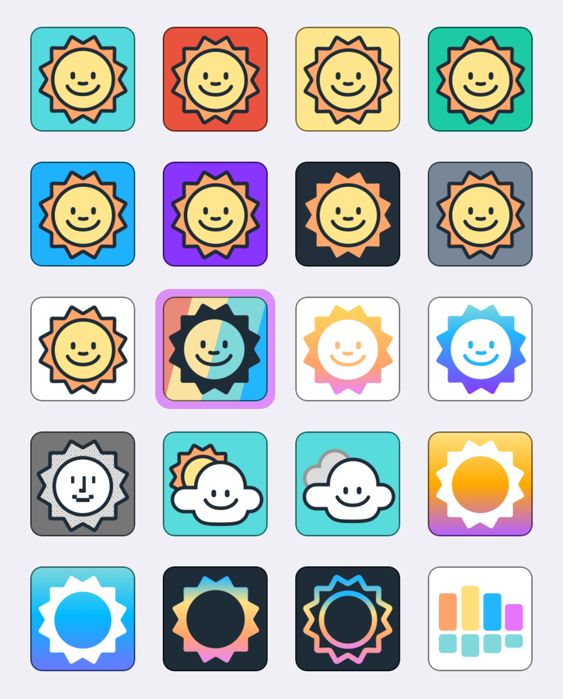 Plus, the finest weather widgets on Earth.
Our phone app is only the tip of the iceberg—we've got excellent customizable Home Screen widgets and Apple Watch support, too.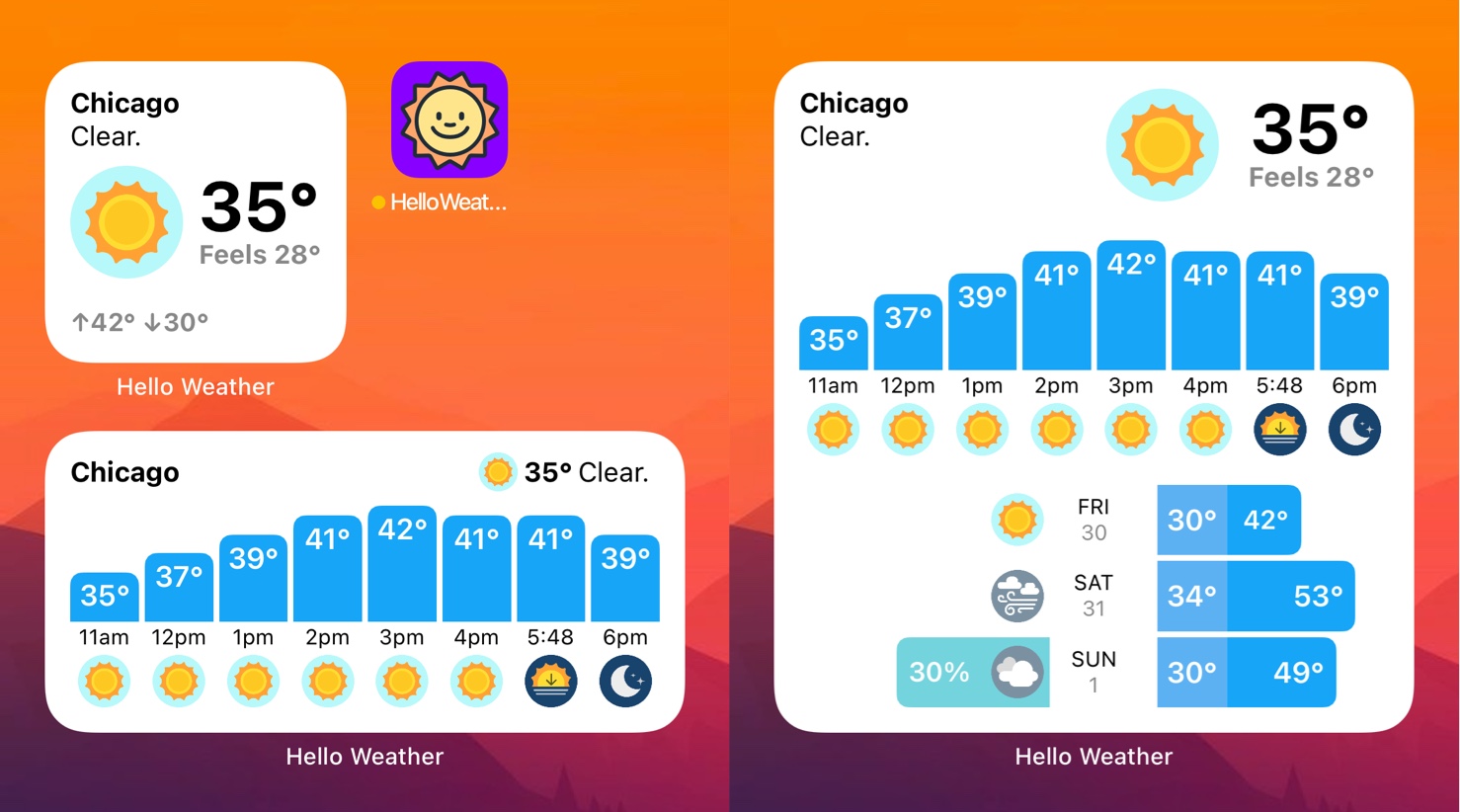 Don't just take our word for it.
Here's what the experts say.
Upgrade to Pro for more weathery goodness!
Hello Weather is free to download and free to use forever. If you find it useful, upgrade for a few bucks and get a ton of extras.
Advanced Radar
See exactly what's coming your way with our pro radar. Unlock animations and future forecasts, plus map layers for cloud cover, tropical storms, lightning, wildfires, and more.
Precipitation info is available globally. Other specialty coverage varies by location.

Apple Watch App & Complications
The same great Hello Weather, but teensy enough to fit on your wrist. See the full current, hourly, and weekly forecasts, and stay up to date with watch face complications.
watchOS 5+ required.

More Data Sources
Switch from Dark Sky's basic forecasts to ultra-detailed info from Apple Weather, AccuWeather, AerisWeather, Foreca, OpenWeather, The Weather Company, and Tomorrow.io.

Awesome Widgets
Get super customizable and beautiful widgets for your home screen, in a range of sizes and styles.
Widget customization on iOS only.

More Frequent Updates
When you use our Apple Watch complications or iOS Home Screen Widgets, they'll update 4x as often.

Smart Forecasts & Customization
You control the weather machine. Turn on special bonus forecasts for wind, UV, precip totals, and feels like temperatures. Or use our automatic smart mode and the app will do it for you.
Air Quality & Pollen Info
Pollution, poor air quality, and allergens can significantly affect your health. Stay updated with daily readings and forecasts for what's in the air.
Availability depends on the data source; pollen is US only.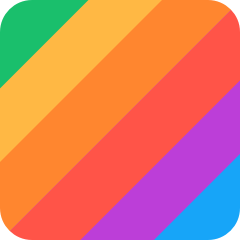 Theme Controls
Want your app to stay a certain color? We got you. Flip a switch and keep it exactly how you like it.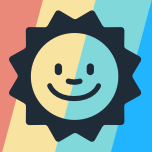 Custom App Icons (iOS only)
If you're finicky about your home screen, you'll love this. Choose your favorite and make your icon shine.

Notifications (Android only)
Who wants to open an app to check the weather? Turn on notifications and get forecast info automatically delivered right to you.
Made with by a tiny indie company.
We're three pals who make Hello Weather in our free time because we have a blast working on it together. Here's more about our philosophy.