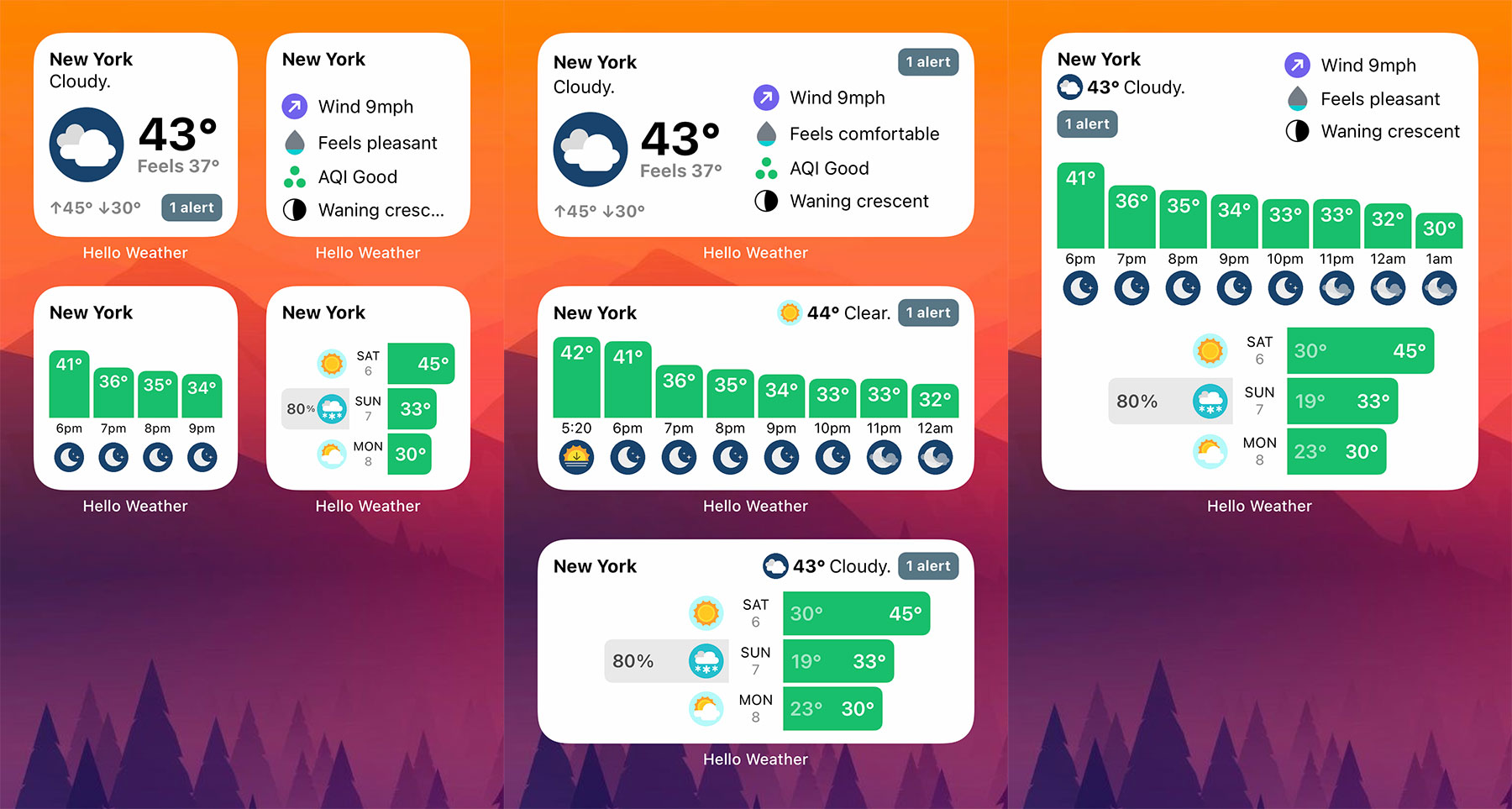 Widget Stack Attack
We revamped and expanded our iOS widgets for fantastically flickable forecasts on your home screen.
A few months ago, we made a whole new set of widgets for iOS 14, and they completely transformed how we use Hello Weather. We discovered that a widget is the philosophically perfect form for a weather app.
We love 'em so much, we had to make even more.
So we've been cranking away at reinventing and improving the widgets. Today we've added many more widget styles (we now have 8 in total), with more data and refined designs. They're awesome.
But the truly revolutionary idea is STACKING THEM UP.
What the stack?
If you've never stacked up widgets before, here's how to do it. First, find a blank home screen and add multiple same-sized widgets to it. You could have multiple small widgets, or multiple medium size, etc.
Then, hold down on one of them for a brief moment, and drag it on top another one. Voila, you have a stack o' widgets.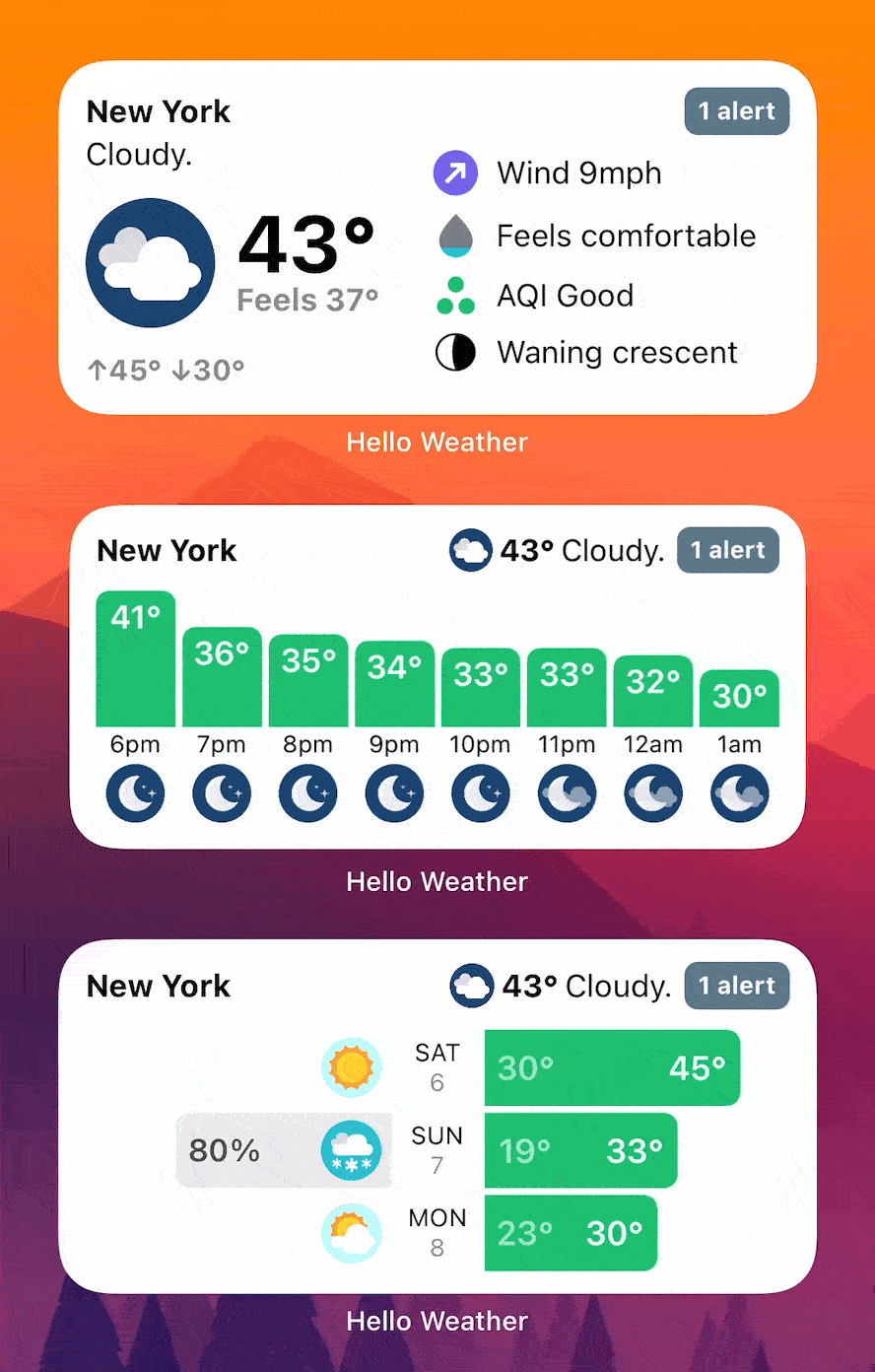 Once they're stacked, you have a wee bunch of weather widgets you can rotate through, by swiping up and down.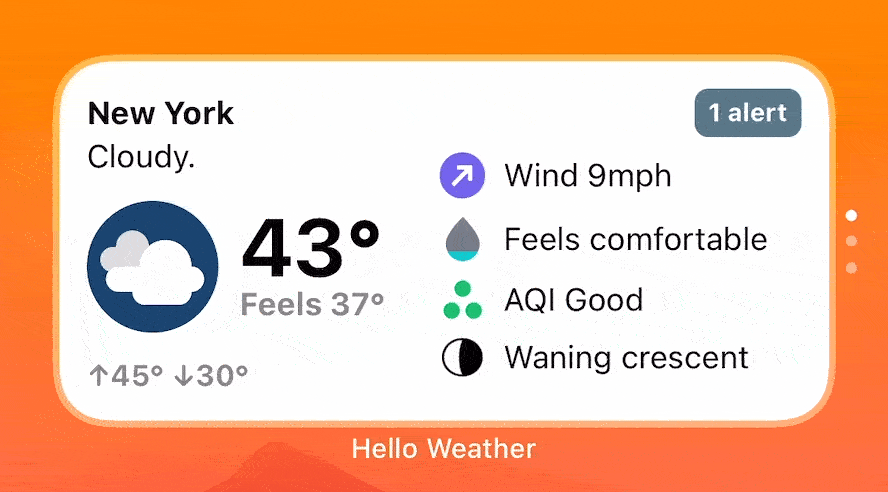 Now drag the stack around to put it wherever you want, and you'll have the whole forecast at your fingertips.
A couple other things to note
This is a major update that will possibly break any Hello Weather widgets you previously had on your home screen. If that happens, just remove them and add them again, and you'll be all set.

We removed the old "Extra stat" option, since now we have new widget styles that show a lot of stats all at once!

We improved the precipitation charts when it's raining or snowing. Now they'll only be shown on the "current conditions" widgets, and they won't take over so much space in the medium/large widgets.

We tweaked a couple of widget background colors, and added a new one called Glow. Check it out!
That's all for now
We're pretty happy with these new widgets, so we're going to let them widge happily for a while, and work on some other updates. Hope you dig the changes.
---