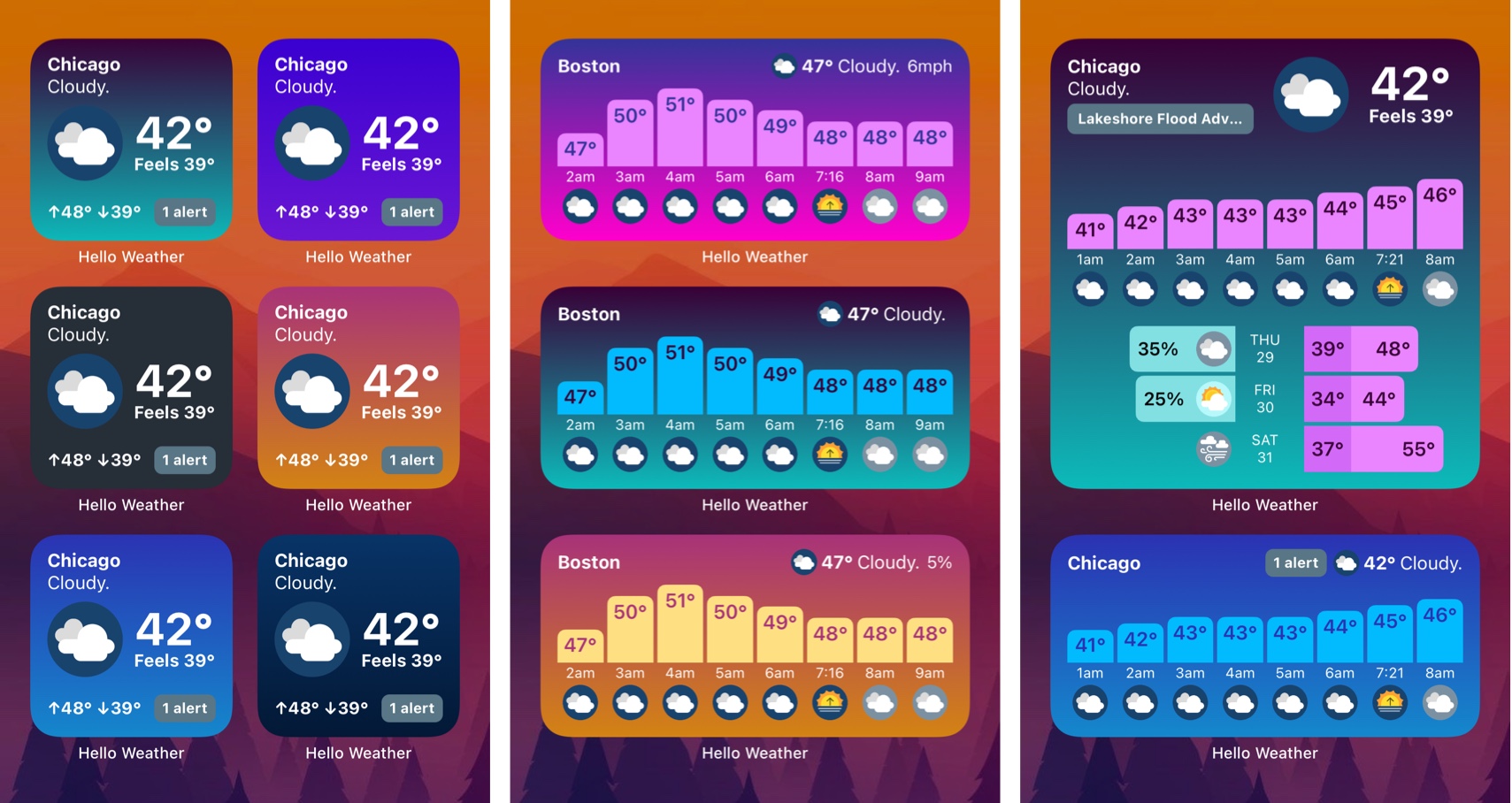 Get Your Widge On
Announcing the first batch of rad Hello Weather home screen widgets for iOS 14.
Hey! We're back with some great new widgey goodness for your iPhone home screens. Here's the scoop.
We have three widget sizes: small, medium, and large.
Each one is like taking a little piece of Hello Weather and sticking it wherever you like. You can add as many as you want, so if you want a small and a medium, or a small on one page and a large on another, go for it!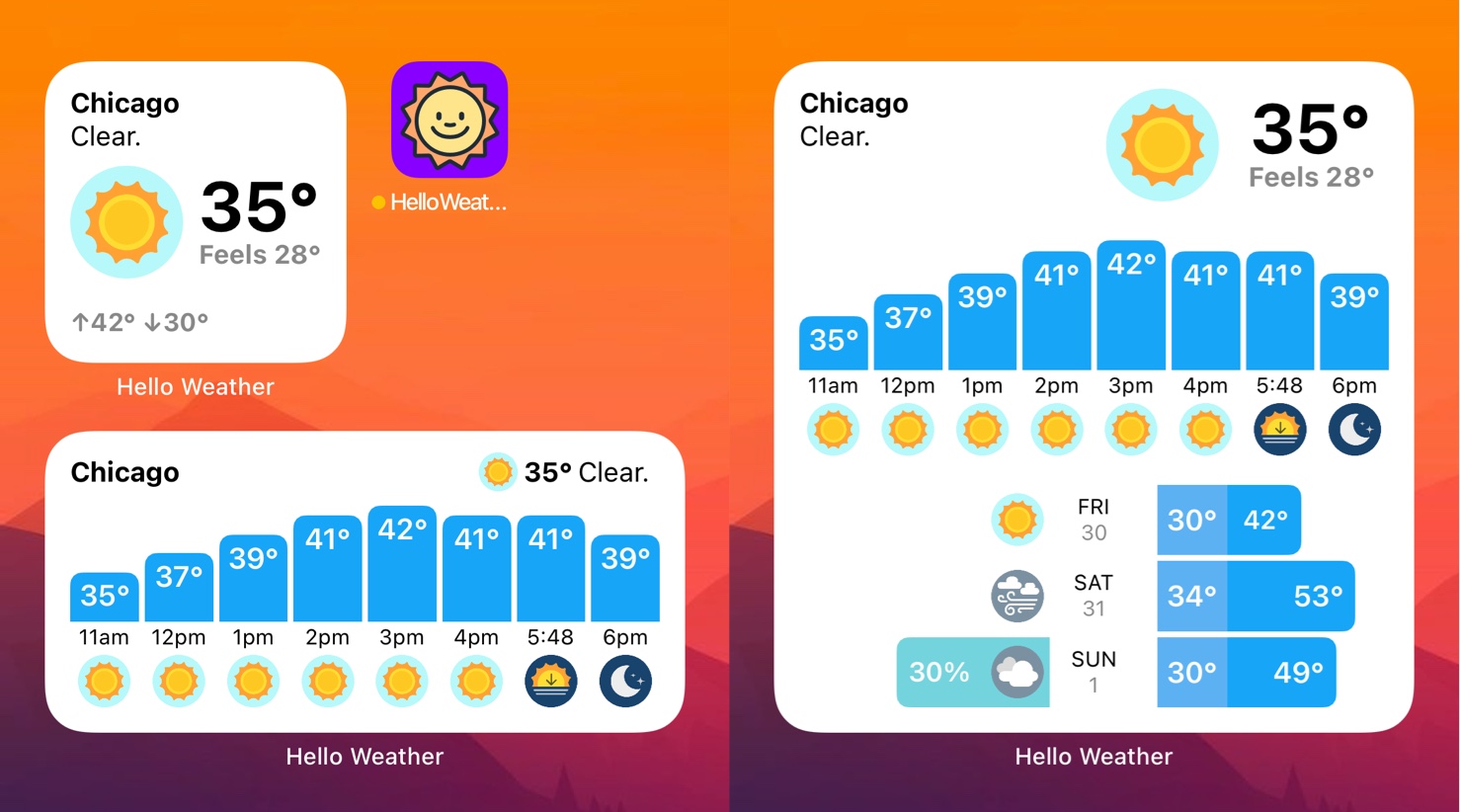 They update automatically, and change colors just like the main app. When it's raining or snowing, you'll see precipitation charts instead:
You can customize the heck out of 'em.
After you've added a widget, press down on it for a moment, and select the Edit Widget option. From there, you can have a jolly good time picking the background and bar chart colors that you like best. (We're partial to Cosmic/Pink, but Lake Monster/Yellow is a close second.)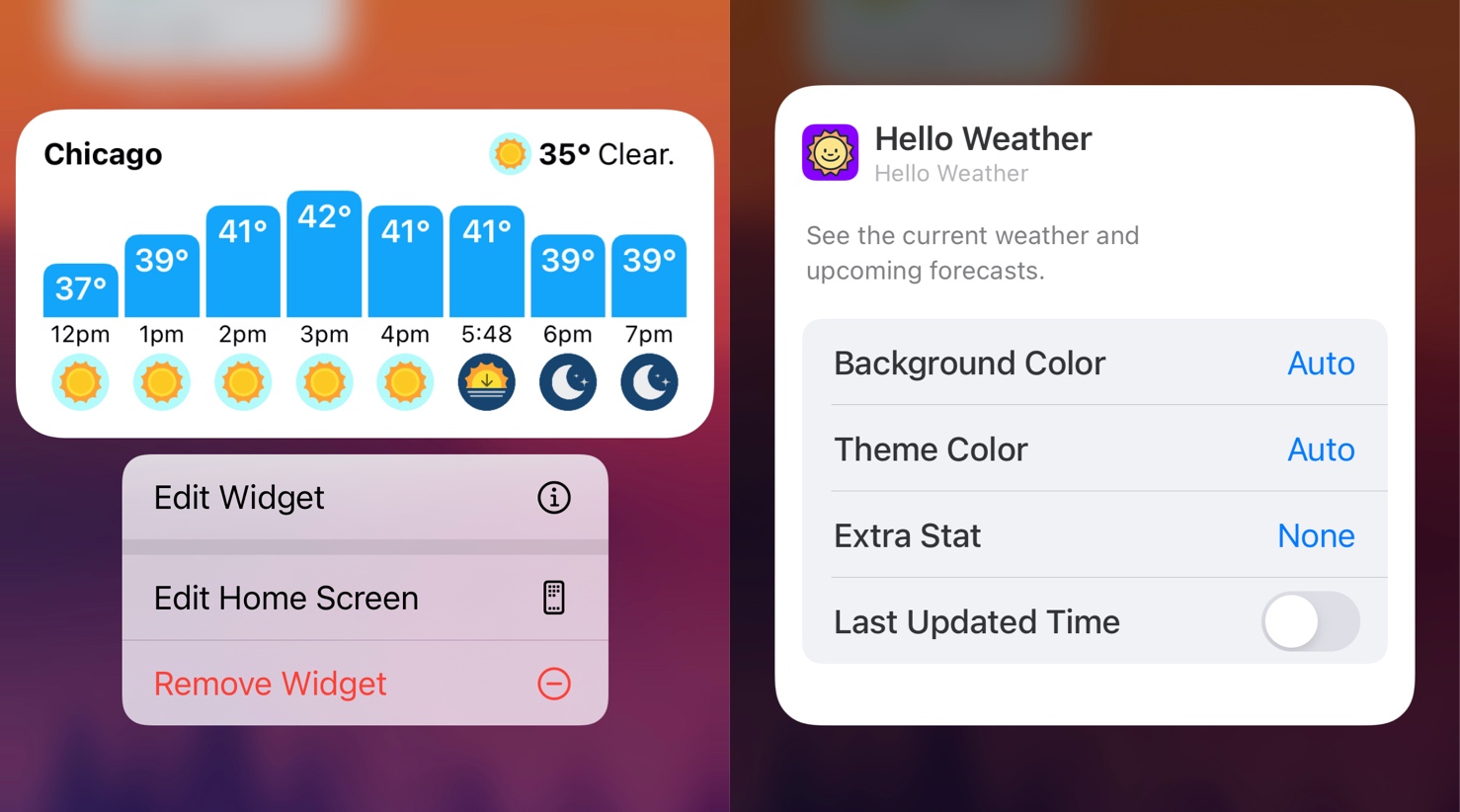 You can also pick a bonus data point, like Wind, UV, Air Quality, and a few more. Or you can select "Auto", and the widget will pick the data that's the most relevant based on the conditions.
Upgrade for more frequent refresh times!
If you're using the free version of Hello Weather, your widget and Watch complications will refresh more often after you upgrade.
Our old Today widget is no more.
For iOS 14, we've disabled our original Today widget, because we can no longer support both versions. But fret not, original widget lovers—we'll be making even more widgets that are similar in spirit to the old one! Stay tuned.
ONE MORE IMPORTANT THING: If you already had a widget on your home screen before the new update, you'll need to restart your phone.
You'll probably see some busted looking widgets after the update. Just restart your device and all will be well. (We're sorry about this—we tried to work around the issue, but Apple told us there's no other way to solve it.)
---
Hope you dig the new widgets. We're not done yet, so watch out for even more widging in the next couple of months.
P.S. If you're in the USA, please go vote!
Stay safe out there.
❤️ Jonas, Trevor, and Dan
---