Introducing Hello Weather for the Apple Watch
After many complications, we clocked in, banded together, and took the time to make a badass watch app (and other goodies too.)
For the last year we've been hearing one request from our customers over and over again:
This app is great. The only thing that's missing is an Apple Watch companion app. Then it would be really great!
We heard you loud and clear. There was just one small problem: none of us wore the Apple Watch, or even owned one at all. We're a bunch of tech minimalists, as you may have noticed!
But since y'all are extremely convincing folk, we finally relented and put some of those itsy bitsy screens on our person arms.
It wasn't long before history repeated itself again—we got annoyed using all the other lousy watch weather apps and decided to make one we actually like.
We had a lot of fits and starts along the way, but today it's released to the world! It's an extremely adorable tiny version of the same Hello Weather you already know and enjoy.
Here's a quick tour.
---
The watch app has three sections just like the phone app. Current conditions, the hourly forecast, and the weekly forecast:

Also like the phone app, you can tap any section to get more details. You'll see current stats, more hourly hours, and full text forecasts for the week.
Weather watches and warnings are supported too. Just tap the button for the scoop.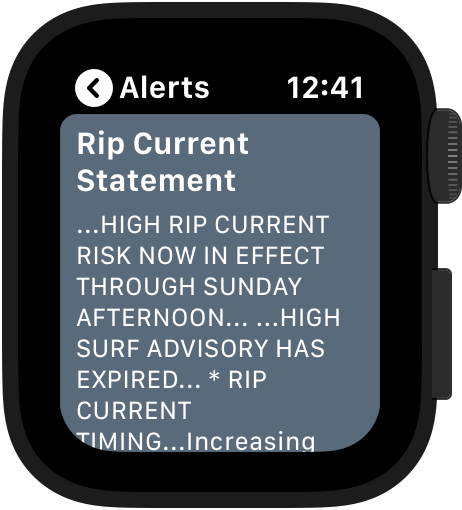 For this first release, the watch app will use whatever location and data source you're using on your phone. So if your phone is set to Chicago with AccuWeather, that's what you'll see on your watch.
We also added some simple complications for most of the Apple Watch faces. These will show the current temperature, current condition, and the high/low for the day. In faces that support it, you'll also see the theme color for your location, which makes it easy to tell at a glance what the temperature is like.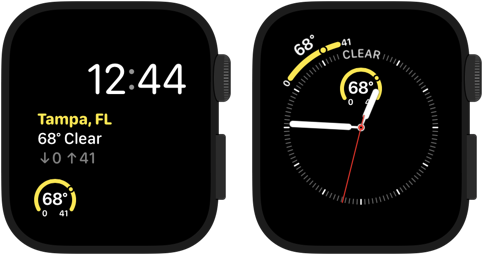 In order to use complications with forecasts for your current location, you'll need to give Hello Weather permission to always detect your location—even when you're not using the app. (Don't worry, we don't do anything with your location data other than send you a forecast and discard it immediately.)
You can fix this in the Settings tab of the Hello Weather iOS app:

And that's about all you need to know about how the Watch app works. We're probably biased, but we think it's really damn good! It's our favorite lil' version of all.
---
To answer questions you surely have…
👍 Yep, we're planning to add more complications and customization options.
👍 Yep, we're planning to allow changing locations and forecast data sources directly on the Watch.
👍 Yep, the Watch app is only available for Hello Weather Fan Club members. You'll get access instantly when you upgrade.
👍 Yep, we have raised the upgrade price for new subscribers—it's now $6.99/year, up from $4.99/year. But if you're already in the Fan Club, the price won't go up! You'll keep paying the original price you signed up for in perpetuity.
👎 Nope, we're not going to add radar to the Watch.
👎 Nope, we're not going to make an Android Wear app.
---
Wait a minute! There's MORE new stuff you should know about!
We decided that making an entire Watch app still wasn't enough of a challenge, because frankly, we aren't very bright.
So we inexplicably also tackled a major overhaul of our Today widget, which is the most complicated thing we could have possibly done at the same time. Here's how that works.
In the small (collapsed) version, the new widget has an improved layout, and now includes the Feels Like temperature right upfront: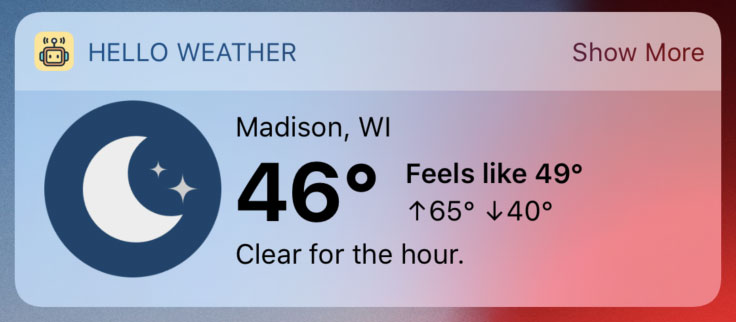 When you expand it, you also get wind and UV info (or the moon phase, if it's nighttime), plus an awesome hourly forecast just like the main app!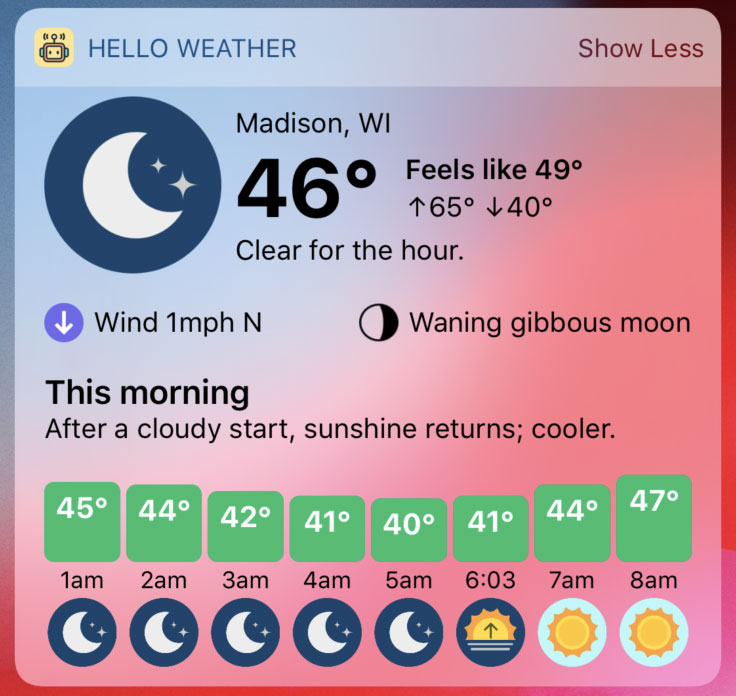 ---
Hold the heck on, there's still more!
Since the watch and the widget took us months to complete, there was ample time to come up with more even more custom home screen icons. We love doing these!
We've added our new friend, the Weather Machine (the fictional supervillain who runs the weather, and the robot mascot of this brand new blog), plus some oft-requested weather forecast icons.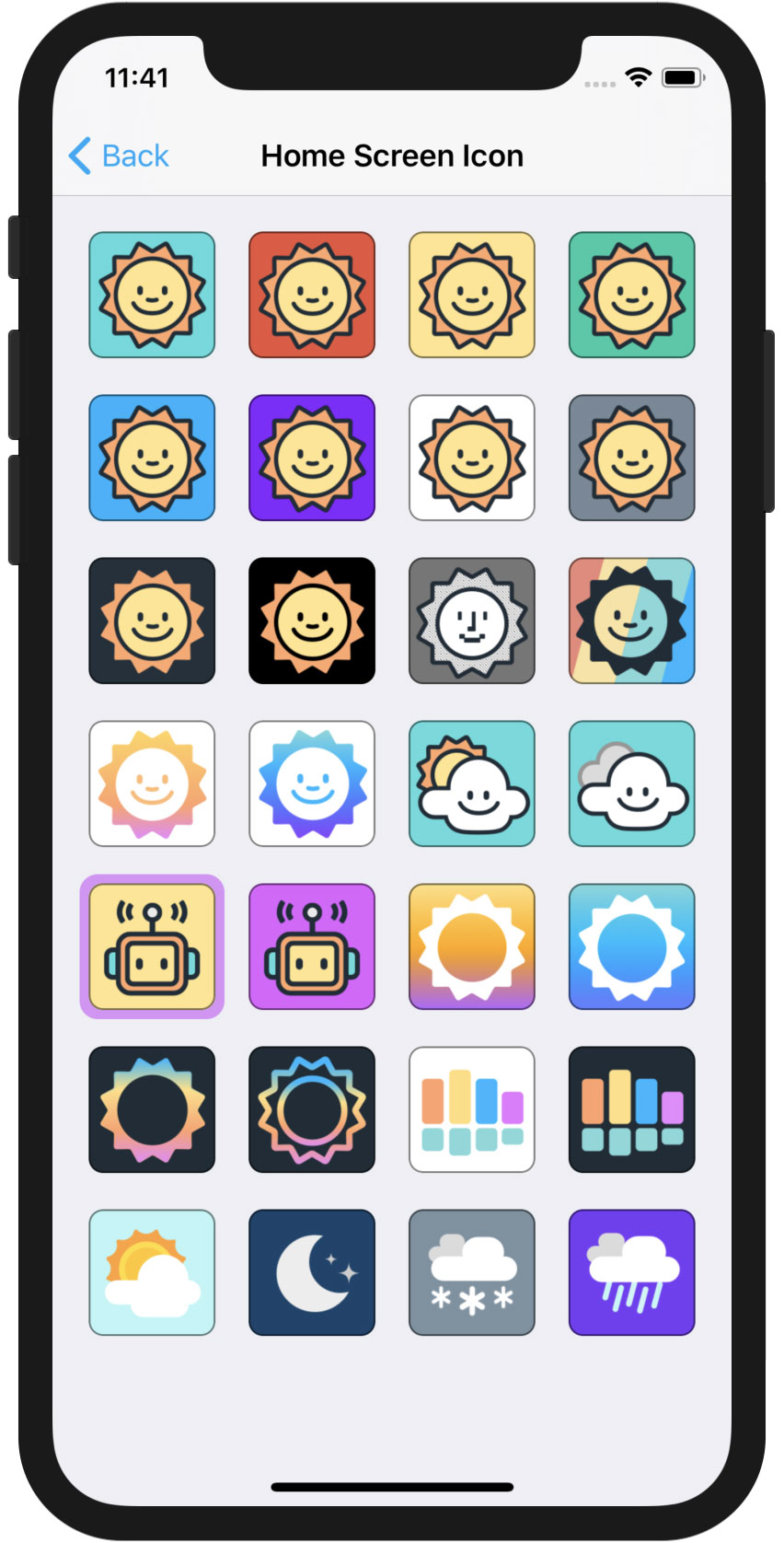 ---
One last thing…
In this release you'll see that we've removed the Weather Underground data source. That's because IBM acquired Weather Underground, and subsequently retired its API entirely.
IBM has a replacement offering that we tried to use, but they've explicitly blocked 3rd party weather apps in their terms of service, effectively preventing any independent app developers from ever using Weather Underground data.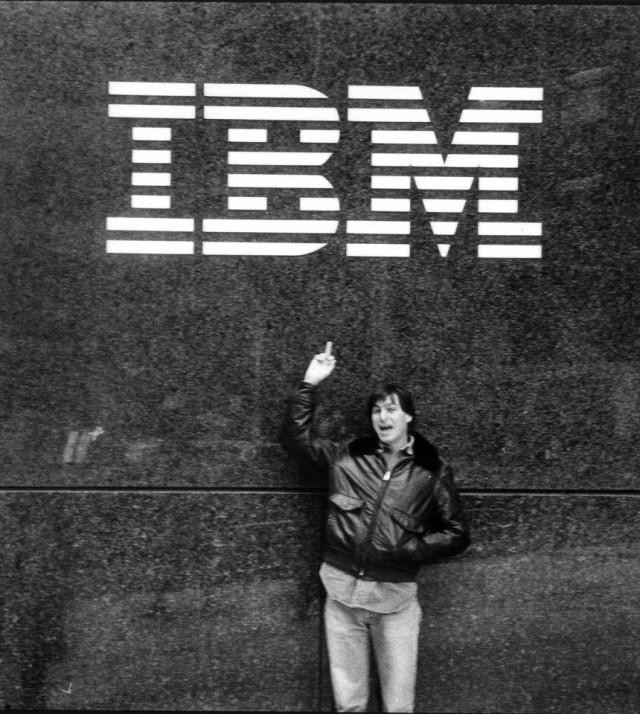 Steve was on point
It's a huge bummer and we're pretty mad about it. Weather Underground was one of the best—if not the best—sources internationally, and it had a novel way of gathering data from crowdsourced amateur weather stations. It completely sucks for a behemoth big tech corporation to take that over and then smother its spirit.
But all is not lost! We're investigating new data sources to add. We'll try to find a couple that don't have weird controlling corporate overlords.
---
OK, that's finally it!
With all this big stuff out of the way, we'll be back to our regular schedule of more frequent smaller updates. Thanks for being patient for a while!
And as always, thanks so much for your wonderful feedback and support. If you have any questions, bug reports, or feature suggestions for the Watch (or anything else), send us a tweet or a friendly email and we'll get right back to you.
❤️ Jonas, Trevor, and Dan
---