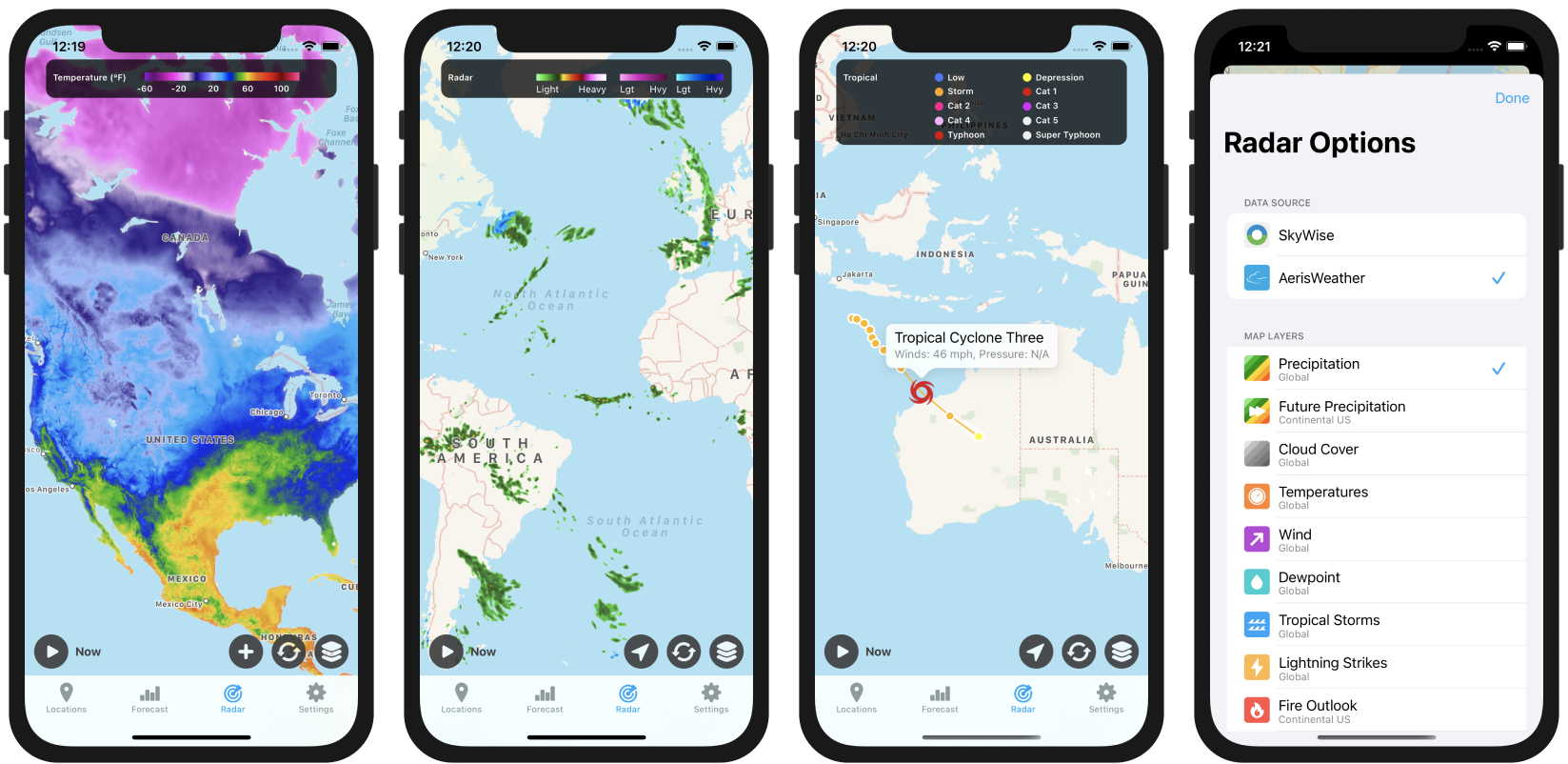 All New Source-ery
Even more data source options for our radar and forecasts.
A while back we wrote about the Dark Sky acquisition and mentioned we'd be adding some new forecast providers to replace it.
Sure enough, we spent the back half of 2020 emailing lots of weather people, negotiating prices, signing business papers, agreeing to agreements, testing APIs, and prepping a bunch of integrations. All that Haha Business work has paid off: we added ClimaCell in August, and now we're back with more new+improved sources in our iOS app!
Radar
The biggest change in this release is a WHOLE EXTRA RADAR PROVIDER in our iOS app. We've long had multiple forecast providers, but only one radar. Now we have two radars: Skywise and AerisWeather.
Why the heck would we have two radars? Well, because we can! But also, because our new radar has a lot of great stuff that our original one doesn't.
Aeris has global precipitation coverage (that's right, the entire Earth), future radar animations, lightning, and fire info. It's an excellent complement to our original radar, and now you can switch back and forth between the two during severe weather times. Go to Radar Options and switch to AerisWeather to check it out. Reminder: you'll need to upgrade to access the radar options.
Foreca
We're not done adding forecast sources, either.
In our new release you can now choose Foreca, an excellent global forecast provider that's based in Europe. A great option for international folks! Just hop over to the Forecast Data option in Settings, and select Foreca to give it a try.
The Weather Company
We also signed a new contract to enhance the data we get from The Weather Company. It should be more accurate and have improved international coverage now.
Other recent improvements
We removed the "Upgrade" nag on our widgets in the free version. Widgets are extremely expensive for us to operate, which is why we added this in the first place. But we heard a lot of feedback that it's too obnoxious, so decided to dial it back instead. Thanks for the feedback everyone (but that said, if you love the widgets, please do upgrade :)
We improved widget stability in a bunch of places, so your widgets should be widging more reliably now. However, if you ever see a "stuck" widget or a blank one, reboot your device and all will be well! The widget system still has a few kinks to work out.
We turned on Family Sharing for our subscriptions, now that Apple supports it. Go forth and share the upgraded Hello Weather love with your whole family.
Hope you all have a safe and healthy holiday season. We'll be back again with more regularly scheduled weathering in 2021.
❤️ Jonas, Trevor, and Dan
---